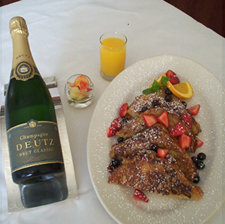 Chef Ala visits the market three times a week and selects only the finest produce and freshest midwest ingredients. Our meats are all natural and the chicken is Amish free-range.
Chef combines these fresh ingredients with classic techniques to bring you bistro favorites such as Duck a l'Orange, Bouillabaisse, Beef Wellington, Mussels Marinière and Steak Frites.
The menu also reflects the chef's love for East coast seafood that is delivered fresh daiy. Menu items change seasonally. Try as we may, due to market conditions, not all items may be available.